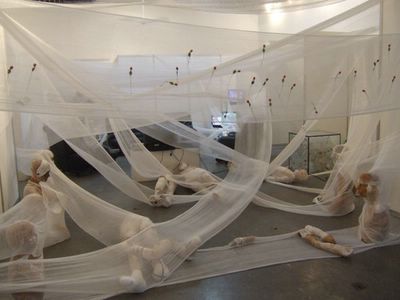 The exhibition had only one large installation and one performance collaboratively done by both artists. An audio cd The Anthem of The Maze was also played along with videos of news broadcast of social conflicts.
"O
urs is an anesthetized society. We are oblivious to other's pain. We have lost our capabilities of either empathizing or sympathizing.
The weapons of "mass instruction" give us the view of a distant theatre. Our living rooms become the safe pavilions for watching far away wars, and killings. We are the cheering spectators.
We have found psychological mechanisms to justify our collective amnesias, and have anesthetized ourselves to block out traumatic experience of the society.
Once we are in this world of decadence, we loose all rationality, where priorities get misplaced, and extreme emotions govern the order of the day. This is the maze we have entered into."
A
n exhibition of performance art and installation- Maze by Bandu Manemperi and G.R.Constantine was held at the Lionel Wendt Gallery from November 2 nd to November 4th 2006. The exhibition was sponsored by Theertha International Artists Collective.